Explore and Stroll Through Little Washington
Take time during your visit to stroll through our charming village and look at the distinctive architecture, follow the Civil War Trail signs, and visit our shops and galleries.  Visit the goats, sheep, llamas and chickens and walk through the Inn at Little Washington vegetable gardens.

Many of the streets in Little Washington bear the names of the first families to own land on which the town was founded: Jett, Wheeler, Porter, and Calvert. You'll note the variety of architecture. Washington House, now The Inn at Little Washington Shops, is an authentic large colonial-period structure, circa 1735, where the county government first held its meetings. Some of the brick Rappahannock County government buildings, circa 1835, were constructed by James Leake Powers, an apprentice of Thomas Jefferson, while Malcolm Crawford constructed the courthouse. Other buildings are frontier cabins, some now covered with clapboard or pebble dash.
As a modern town that maintains the charm of a country village, "Little" Washington has a unique blend of rural character and historic significance. Its mixture of open spaces, village-style commerce, historic structures, cultural offerings, and local government activities makes it a peaceful yet vibrant community sought after by Big Washington (DC) area residents who have come here and made this their home.
Galleries offer top-notch individual and group shows throughout the year, and concerts are given that satisfy every musical taste-bluegrass, classical, gospel, or jazz. Live performances are presented at the two theaters, and the Rappahannock Association for the Arts & Community sponsors a regular schedule of Friday night movies, as well as a fall artist and gallery tour.  NOTE ASIDE FROM GALLERY SHOWS, EVENTS ARE ON HOLD DUE TO Covid-19. Visitors interested in local history should stop by the Rappahannock Historical Society to peruse its selection of documents and records.
SHOPS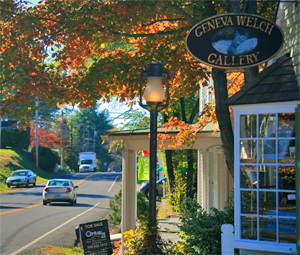 Geneva Welch Gallery
Geneva Welch
341 Main Street
P.O. Box 420
Flint Hill, Virginia 22627
540.675.3332 | www.genevawelch.com | email: geneva@genevawelch.com
Geneva is a nationally known artist, displaying watercolor, oil paintings and dry-point etchings of animals and country scenes. Limited edition prints and hand painted ornaments and platters. Open Thursday – Monday 11:00am – 6:00pm.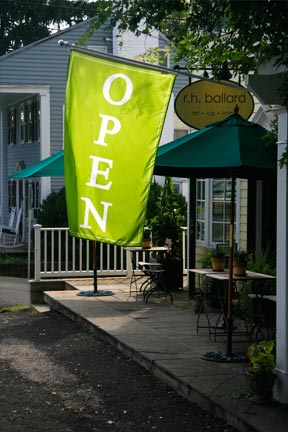 R. H. Ballard Art, Rug & Home
Robert & Joanie Ballard
307 Main Street
P.O. Box 412
540.675.1411 | www.rhballard.com | email: customerservice@rhballard.com
Two floors of fine art, rugs, European home decor and gifts, one block from The Inn at Little Washington. Open daily, 10:00am-6:00pm
The Inn at Little Washington Gift Shop
Middle and Main Street
P.O. Box 300
Washington, Virginia 22747
540.675.3800
Carries items unique to the Inn, including its own breakfast china, granola, bread and items designed exclusively for the shop. Open daily at 10:00am until 6:00pm Monday – Thursday, 8:00pm Friday, 10:00pm Saturday.
JPC Designs
Justin Corddry
330-C Porter Street
Washington, Virginia 22747
540.346.0345 | email: justincorddry@yahoo.com
Handcrafted home furnishings and accessories.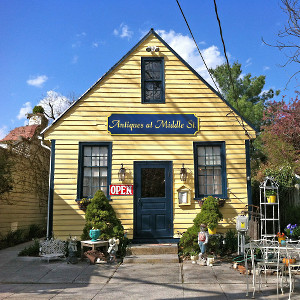 Antiques at Middle Street
325 Middle St
Washington, VA 22747
540.675.1103 | antiquesatmiddlest.com
Adjacent to The Inn at Little Washington, this shop is a conglomeration of beautiful and interesting finds in the world of collectibles. The front room is filled with vintage furniture and other unique pieces, all surrounded by a display of art. Our porcelain collection includes Limoges pieces and pieces from Czechoslovakia, Germany, Japan and England. Displays of Chinese artifacts and depression glass are lighted by delightful lamps peppered among the treasures. The back room holds another treasure trove of goodies including lovely primitives, kitchen collectibles, toys, knickknacks and interesting works of art. To help you walk down memory  lane is the ticktock of old clocks, from small to wall clocks.
Hours: F-Su & Monday holidays, 10 am-6 pm
Rappahannock Historical Society & Museum
328 Gay St
Washington, VA 22747
540.675.1163 | rappahannockhistsoc.org | email: rapphistsoc@comcast.net
Many visitors enter the doors of this library, museum and gift shop to not only learn more about the Town of Washington but also the county it is in, Rappahannock. Washington, Va., is the county seat of Rappahannock. The historical society collects, preserves and interprets the unique history and heritage of this area. The museum contains artifacts of the county, some of which are prehistoric, donated by descendants and generous benefactors. The gift shop features historical maps, memorabilia and products from Rappahannock County.
Hours: M, Tu & Th, 11 am-5 pm
Wine Loves Chocolate Tasting Room
353 Main Street
P.O. Box 125
Washington, Virginia 22747
540.227.8010 | www.wineloveschocolate.com | email: lwwinery@gmail.com
Taste incredible small batch craft wines, featuring the award-winning Little Washington Winery portfolio and other craft wines daily. Enjoy artisan chocolate truffles made especially to pair with wine. Do a wine and chocolate pairing or fill a box with your own personal favorite chocolates from our 50 flavor truffle bar. Stay awhile and enjoy wine by the glass or a foodie class. Open Thursday – Monday 11:00am – 6:00pm
Artifacts on Main
Corner of Main and Jett
P.O. Box 412
Washington, VA 22747
540.675.1411 | www.artifacts-on-main.com
Sculpture, architectural elements, modern & vintage objects for garden and home, planters & furniture.
Open daily 10am-6pm
---
CHURCHES
St. Peter Catholic Church
Pastor: The Rev. Christopher D. Murphy
12762 Lee Hwy
P.O. Box 27
Washington, Virginia 22747
540.675.3432
Trinity Episcopal Church
379 Gay Street
P.O. Box 299
Washington, Virginia 22747
540.675.3716 |email: contactus@trinwash.org
Website:  trinwash.org
Washington Baptist Church
180 Gay Street
P.O. Box 209
Washington, Virginia 22747
540.675.3336
Built in 1873, impressive Renaissance revival style architecture. Everyone is welcome to our morning worship service each Sunday at 11:00am.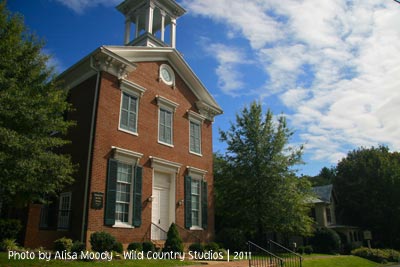 First Baptist Church
Pastor Dr. Wendall R. Grant
Fodderstack Road
Washington, Virginia 22747
540.675.3382
Established 1873. Sunday School: 9:45am; Church Services: 11:00am.